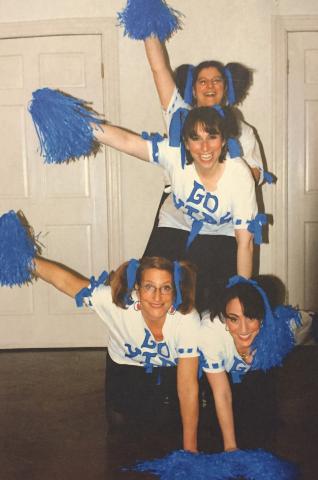 Aviva Perlo is a social worker, community cheerleader and writer!  
She cheers for humanity, to regain the strength and courage to address adversity and build healthier societies. Aviva's work:
Provides artistic tools to help people manage life changes
Combines clinical knowledge and creativity to spark meaningful conversation
Empowers people to integrate different parts of themself, weaving prayer and pom poms, mind and body
Her work on life changes, loss, and resilience has been featured in the Huffington Post, The Times of Israel, on WHYY Public Radio, on www.medium.com, in Philadelphia papers, Houston papers, and more.
Aviva has facilitated over 600 hours of interactive trainings for at-risk youth and adults on public health, behavioral health, aging, trauma, violence prevention, and advocacy. Programs take place at non-profits, for-profits, schools, universities, Juvenile Probation, Housing and Urban Development sites, senior centers, AARP, government agencies, and faith-based organizations.
Aviva brings artistic vision and a passion for truth. She holds a Masters in Social Work from Temple University in Philadelphia and a Bachelors of Arts in English from The University of Texas at Austin.
In a previous life, Aviva played soccer, basketball, volleyball, ran track and field, was a swimmer and a marathon runner.
Fans describe Aviva's work as D&P = rated deep and playful.